Founded in 1987, Bâtirente's retirement system is a unique Québec institution, whose creation was made possible thanks to the conviction of its pioneering and forward-looking builders.
The story behind what would become the retirement system of unionized members of the Confédération des syndicats nationaux (CSN) begins as Québec is in the throes of an employment crisis. The early 1980s would see the decline of large multinationals in the primary and manufacturing sectors offering workers defined-benefit pension funds. Those multinationals are being replaced by SMEs that lack the means to offer such plans. In 1984, on the eve of its 52nd convention, the CSN conducts a study revealing that 42% of collective agreements contain no clauses dedicated to retirement; and that among the unions that do have access to a supplementary pension plan, 40% of members are dissatisfied, as they consider those benefits insufficient; with barely 30% of the plans being under union control. At this point, a discussion is launched on this important issue—and Bâtirente is born.
Mobilizing around retirement
The CSN starts focusing on retirement, and discussions on this are held during its 1984 convention. It's clear to everyone that solutions need to be found that would give workers access to pension funds. The central labour body mobilizes its experts around the topic and adopts the proposal to implement a group RRSP for its members. The project is adopted by the Confederal Council in 1985, and the Bâtirente Group RRSP takes shape on September 23, 1987, with the signing of the first group annuity contract with SSQ Life. That same year, the
Syndicat national des produits chimiques de Valleyfield (Expro)
union becomes the very first group to set up a Bâtirente pension plan.
During the CSN's 54th Convention in 1988, Bâtirente holds its first general meeting of group representatives to elect its first board of directors, namely: Jacques Allard from the Syndicat d'entretien de la STCUM; CSN Treasurer Léopold Beaulieu; Mario Dokianakis of the Syndicat des employés Le Grand Hôtel; François Grondin of the STT de Bonaventure (CSN); Pierre Giordani of the STT de l'hôtel des Gouverneurs Place Dupuis; CSN President Gérald Larose; Réal Picard of the STT de Beauce Atlas; Claude Rioux of the Fédération des travailleurs et des travailleuses du papier et de la forêt; and Daniel Simard of the Fédération des employées et employés de services publics (FEESP-CSN).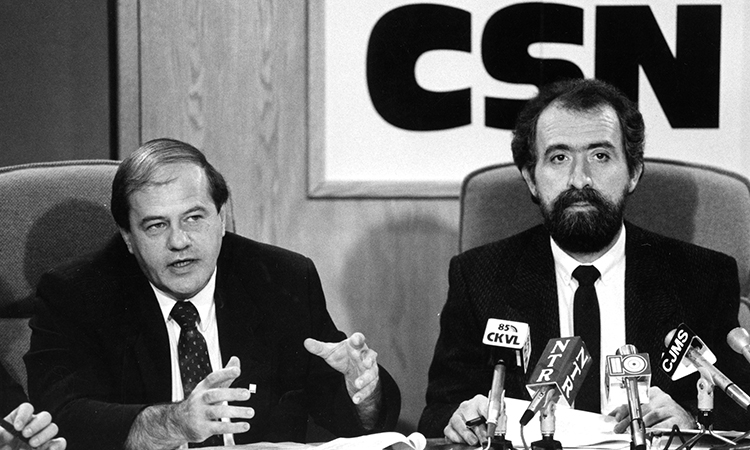 Launch of the Bâtirente group RRSP with the signature of a first group annuity contract with SSQ Life in 1987. Left to right: Léopold Beaulieu and Gérald Larose, then respectively Treasurer and President of the CSN.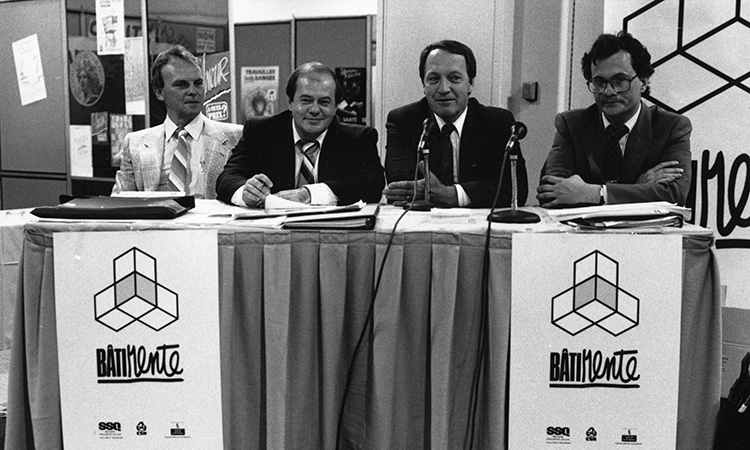 First Bâtirente general meeting on the occasion of the 54th CSN Convention in 1988. Left to right: Jacques Allard, Léopold Beaulieu, Jean-Claude Tremblay from SSQ and Claude Rioux.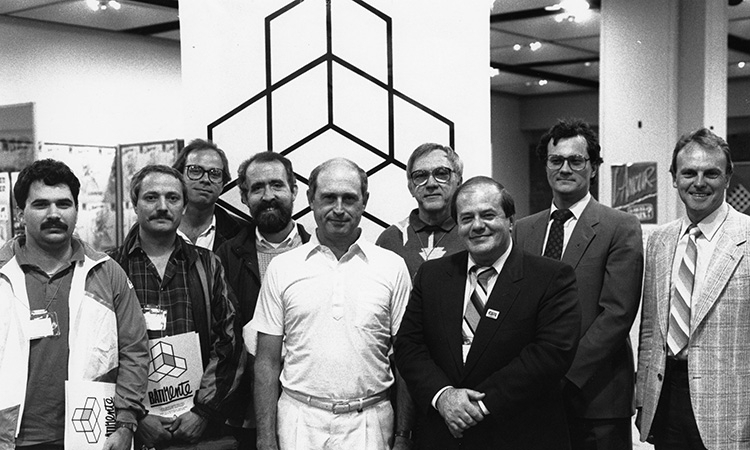 First board of directors in 1988.
The first builders develop a novel vision for retirement plans. In fact, Bâtirente dedicates itself to offering high-performance plans based on capital accumulation, thanks to a unique approach using a pooled fee structure. Under this system, unions play a very crucial role since they are at the heart of this system and must take ownership of their plans' management.
Bâtirente creates a range of retirement savings vehicles geared to all CSN members and uses the leverage of collective bargaining to achieve so-called "funded" plans—a well-known approach today but considered ground-breaking at the time. It consists of true pools of workers, covered by collective agreements, and managed by unions, acting in the financial interest of their active and retired members.
In 1995, Bâtirente becomes a non-profit organization and a services mutual that returns its profits by offering an extensive range of services to its members, while also—and above all—reducing the management fees paid by its groups. With Bâtirente, this rate decreases as group size and assets increase—a strategy that ensures member loyalty and helps attract further members.
Daniel Simard is appointed General Coordinator of the corporation in 2000. The organization grows quickly with the increase in union participation and volume of assets under management.
Over time, and in response to union demands and legislative changes, Bâtirente adds funded plans to its offering, such as the simplified pension plan (SPP); deferred profit-sharing plan (DPSP); multi-employer pension plan (federal MEPP), to meet the needs of union members in the federal jurisdiction and other provinces; and tax-free savings account (TFSA); as well as withdrawal plans, like the registered retirement income fund (RRIF) and life income fund (LIF).
In 2011, Bâtirente creates Trajectory, a turnkey investment strategy, as well as Plannuity, a personalized retirement income planning and support service. Once again, Bâtirente proves its ability to innovate. In fact, Plannuity offers disbursement tools to retired members, which helps grow the size of the system and its assets under management, while reducing management fees for all members. What's more, members who retire can stay in their group and thereby benefit from significantly lower management fees than what they would be offered elsewhere in the retail market, which has a direct impact on the level of their benefits.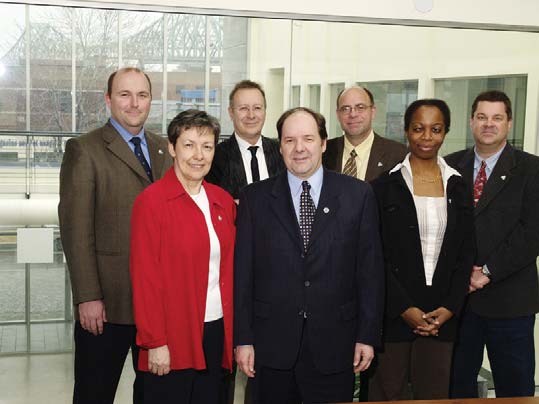 The Bâtirente team in 2005: Martin Blais, group annuity plans advisor; Hélène Gariépy, office worker; Henri Jalbert, communications advisor; Pierre Patry, chair of the board; Daniel Simard, general coordinator; Laetitia Tankwe, financial risks analyst; Alain Ayotte, group annuity plans advisor.
The important question of fiduciary duty quickly becomes apparent, since a retirement system stemming from a social movement (like that of the CSN) needs to manage the capital entrusted to it by its members in line with the latter's values of equity, justice and economic democracy.
Bâtirente is already on the path to responsible investment by the end of the 1990s. Spearheaded by Daniel Simard, Bâtirente takes an interest in the influence that members' assets under management could have on the behaviour of companies in which they are invested. He examines the climate change issue while counting on the fact that the financial world could be mobilized for the common good, especially when broad consensus is reached, as would happen with the Paris Agreement (COP21). With its shareholder engagement efforts, Bâtirente puts the spotlight on issues that did not receive much attention previously—diversity, inclusion, tax havens and Indigenous peoples' rights—to ensure that companies in which it invests are good corporate citizens.
Responsible investment and shareholder engagement
In 2005, Bâtirente is among the first pension plans in Québec to integrate environmental, social and governance (ESG) criteria into its investment policy, through its Statement on Principles and Procedures for Corporate Social Responsibility and Corporate Governance and its Extrafinancial Risk Management Guidelines. Pierre Patry, CSN's treasurer and chair of Bâtirente for 17 years (2004–2020), plays a critical role in the corporation's integration of responsible investment.
At the same time, the Principles for Responsible Investment (PRI) are about to be launched in New York. In 2006, Daniel Simard makes his way to the New York Stock Exchange to ensure that Bâtirente is among the initial 26 signatories of the PRI alongside the major global funds. He then serves on the UNPRI board until 2015 and helps create the PRI Québec Network as well as the PRI's Francophone Advisory Committee. Bâtirente is also one of the initiators of the Québec Network of PRI Signatories, launched during the Colloque québécois sur l'investissement responsable held in Montréal in 2013.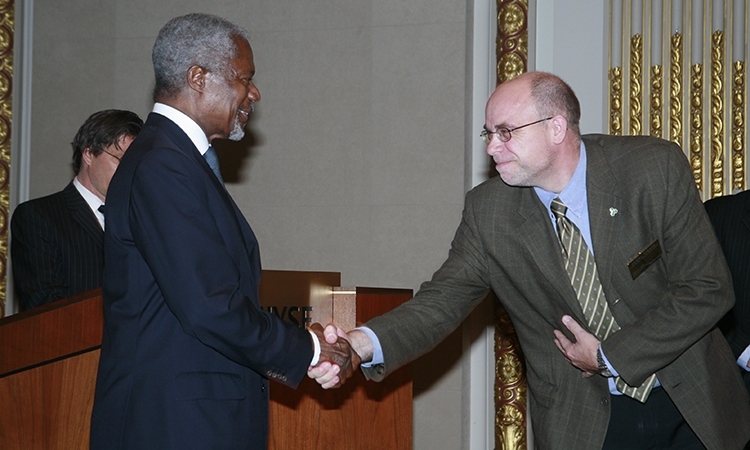 Kofi Annan, then UN Secretary-General, and Daniel Simard at the Principles for Responsible Investment (PRI) launch ceremony held at the New York Stock Exchange in 2006.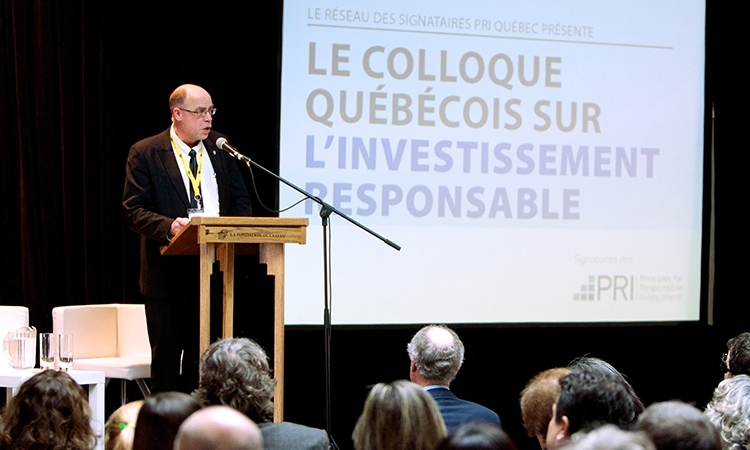 Bâtirente was one of the instigators of the Québec Network of PRI Signatories launched at the Colloque québécois sur l'investissement responsable held in Montréal in 2013.
In September 2014, Bâtirente is one of the first signatories of the Montréal Carbon Pledge, which involves measuring and disclosing portfolios' carbon risk exposure on an annual basis, but also looking at the various ways to mitigate these risks or even explore new investment opportunities.
In 2015, in partnership with the Regroupement pour la responsabilité sociale des entreprises (RRSE), Bâtirente founds Æquo, Shareholder Engagement Services, with the goal of making these services available to Québec's institutional investment community. The two co-founders are counting on the fact that by raising more capital through this practice, Æquo will amplify the impact of shareholder engagement and facilitate the continued growth of responsible investment.
In 2020, Bâtirente unveils its Climate Commitment with the following four 5-year goals: reduce its climate risk exposure by 50%, double its transition investments thanks to impact investing, target its shareholder engagement to improve companies' climate performance and, lastly, collaborate with its partners on the transition to a low-carbon economy. In 2021, the results of this engagement are positive and encouraging, and the goals are well on their way to being achieved by 2025.
During the annual general meeting of October 16, 2020, Bâtirente announces the creation of an honour roll in recognition of the organization's Builders and highlighting the accomplishments of those who helped Bâtirente successfully fulfil its mission today. Léopold Beaulieu is inducted there as the very first Builder. As the former CEO of Fondaction and one of the founders of Bâtirente, he left the board after having served non-stop for 33 years.
During its annual general meeting on June 18, 2021, Bâtirente adds two more people to the Builders' Honour Roll: Jacques Allard (inducted posthumously), who served on the board from 1987 to 2001, and Claude Rioux, who was a board member from 1987 to 2004.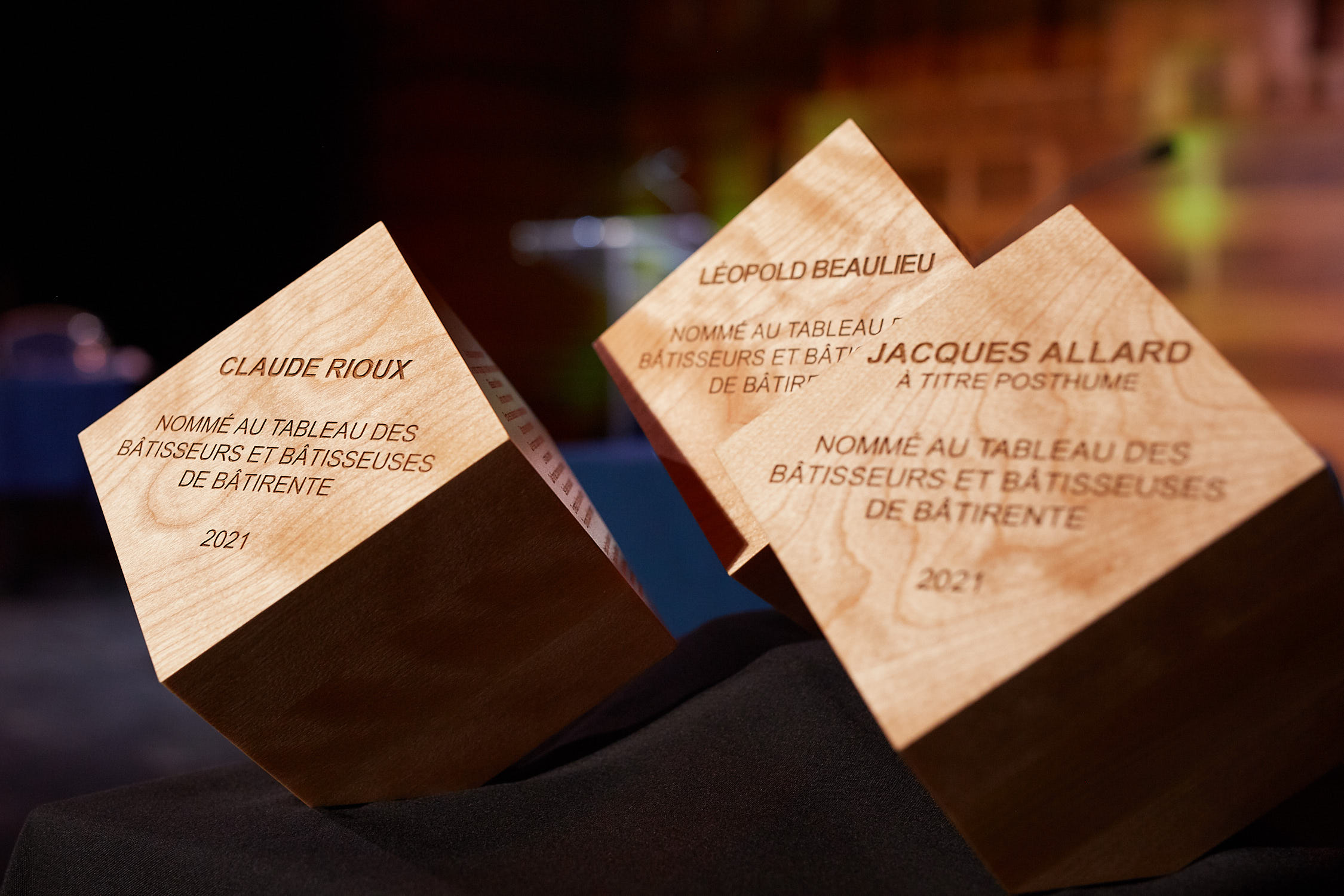 Inauguration in 2020 of the Builders' Honour Roll highlighting the exceptional contributions of individuals who have enabled Bâtirente to successfully carry out its mission today.
Transitioning to the future
In 2020, following a long career as treasurer of the CSN, Pierre Patry takes his retirement, thus stepping down as Bâtirente's chair after 17 years. Bâtirente pays tribute to him in its 2020 annual report. Yvan Duceppe, elected as CSN's treasurer in January 2021, is chosen to succeed Pierre Patry in this role at the annual general meeting.
In the fall of 2021, after 25 years as Bâtirente's CEO, Daniel Simard confirms to the board that he intends to retire as of June 2022. Éric Filion, Chief Operating Officer since the autumn of 2016, is appointed to take over as CEO. Éric Filion establishes a management committee composed of Marie-Claude Baker Prud'homme as Director, Finances, Governance and Risks; Vickie Lavoie as Chief Operating Officer; and Hélène Marcoux as Director, Development.
During its annual general meeting on June 15, 2022, Bâtirente pays tribute to Daniel Simard, who recounts his journey as a passionate activist in the 2021 annual report. He is also inducted into the Builders' Honour Roll, joining three other individuals who, like himself, were successful in helping the organization achieve its mission.